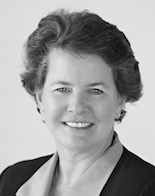 erice@waypointinc.com
651.702.0138
Eileen has 24 years of investigative experience as a Special Agent with the Federal Bureau of Investigation (FBI) in the Los Angeles and Minneapolis offices. Eileen's federal law enforcement experience includes work with the U.S. Attorney's Offices and other law enforcement agencies on major white-collar investigations. Eileen participated in planning and performing complex financial investigations, and has extensive experience in asset forfeiture, court receiverships and asset identification and recovery.
During her federal law enforcement career Eileen investigated hundreds of allegations of criminal fraud involving bank fraud, bank failures, public corruption, investment fraud, mortgage fraud and securities fraud. She assisted in obtaining criminal convictions against individuals, including the some of the larger Ponzi scheme cases in region: U.S. vs. Thomas J. Petters, et. al.; U.S. vs. Trevor Cook; and U.S. vs. Jason Bo-Alan Beckman, et. al. Eileen's work on the Petters case led to her being awarded as a co-recipient of both the Attorney General's Distinguished Service Award and the Law Enforcement Officer of the Year.
In 2012, Eileen's investigative skills and leadership lead to the criminal conviction of the president of Pinehurst Bank of St. Paul, MN. In the arena of public corruption, her investigations resulted in the convictions of seven law enforcement personnel during her career, including two in Minnesota in 2008. In 2013, Eileen focused on the mortgage fraud, which culminated in the convictions of five people and financial recoveries from a court receivership in U.S. vs. James Warren Hoffman, et.al.
Eileen has worked with experienced investigators from other agencies and mentored new investigators in the FBI and other agencies. Eileen comes to Waypoint with a Master's of Business Administration (MBA) from Pepperdine University. She is also a Certified Fraud Examiner (CFE).
Next